Skid Steer Rental Sacramento
Skid Steer Rental (Tracks and Wheeled Skid Steer Rentals)

From Bobcat Skid Steers, Compact Track Loader Skid Steers and Much more, we have it all at Pacific Coast Iron
A skid steer is a versatile piece of equipment that assists in dirt moving tasks. Skid steers can be found working in many different industries and in a huge variety of jobs. Municipal employees, residential construction workers, landscapers, agricultural workers, and many more different kinds of people use skid steers on a daily basis in order to make their operations function with maximal productivity. If you have a temporary need for a skid steer but aren't ready to make a permanent purchase yet, or if you do not use a skid steer enough to justify buying one but still need to use one on occasion, we have the rental skid steers you need here at Pacific Coast Iron.
Bobcat Skid Steer Rentals in Greater Sacramento, CA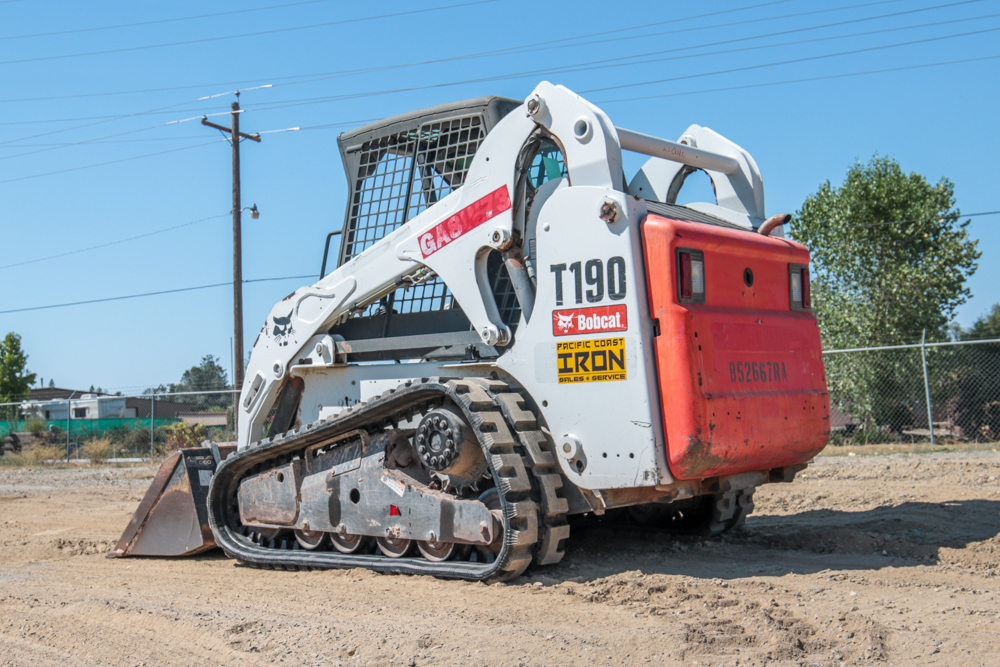 Renting skid steers from Pacific Coast Iron is a great business decision in all sorts of different scenarios. Perhaps you are experiencing a temporary increase in demand, so that you need the extra machinery right now but don't expect to need it next month. Or maybe you have taken on a project that needs a skid steer, even though moving dirt is not usually part of your business. Here at Pacific Coast Iron, we have flexible rental terms to maximize your productivity and save you as much money as possible. We also have an easy ordering system and great availability of equipment, so that you can rent from us without any hassle or worry at all.
At Pacific Coast Iron, we know that there are many industries in California which periodically need to have access to the use of a skid steer. Our job is to facilitate that access. We offer all sorts of skid steers for all sorts of projects, so that no matter what you have going on, you will be able to get precisely the skid steer you need to make your project happen.
Here at Pacific Coast Iron, we offer a wide variety of skid steer sizes and styles. There are different kinds of work sites you may encounter, and there are different kinds of things you need to be able to load up and lift with your skid steer. You may be lifting small things or big things; you may be working in wide, roomy areas or more confined spaces where a small turning radius is of paramount importance. Whatever kind of job site and job description you are working with, you can be sure that the skid steer you get from Pacific Coast Iron will be perfect for the job. We make sure of this by talking to you at length about your task and finding out what all the requirements are going to be. That way we will be able to get you the skid steer rental that will be perfect for you and will meet all your requirements.
If you need a skid steer rental, give Pacific Coast Iron a call today. We will give you a free estimate and walk you through the entire process of renting your skid steer so you can get your project done on time!