Motor Scraper Rental Sacramento
Motor Scraper Rental Sacramento, CA

We carry a good amount of Motor Scrapers for Rent in Sacramento (Choose from John Deere, Caterpillar and more)
When you need dirt moved around, a scraper is a great way to do it. Scrapers are super-efficient earth moving machines. As you drive over an area, the scraper picks up dirt and loads it into the hopper. Then you take the dirt from the hopper and you move it straight over to where you need it to go. Scrapers are kind of a combination of the functions of graders and backhoes: you scrape the dirt up as you drive over it, like with a grader, but the dirt goes into a hopper instead of just getting pushed off to the side. And you can move, lift, and place the dirt wherever you want it to go, like with a dozer, but you don't dig it to pick it up in the first place.
There are many reasons why you might need a scraper for your business or personal use. You may be doing a landscaping project or preparing for a construction project. Many people in agriculture use scrapers to get raw fields flat and ready to plow and plant. Whatever your reason is for needing a scraper rental, we are here for you.
The Benefits of Renting a Scraper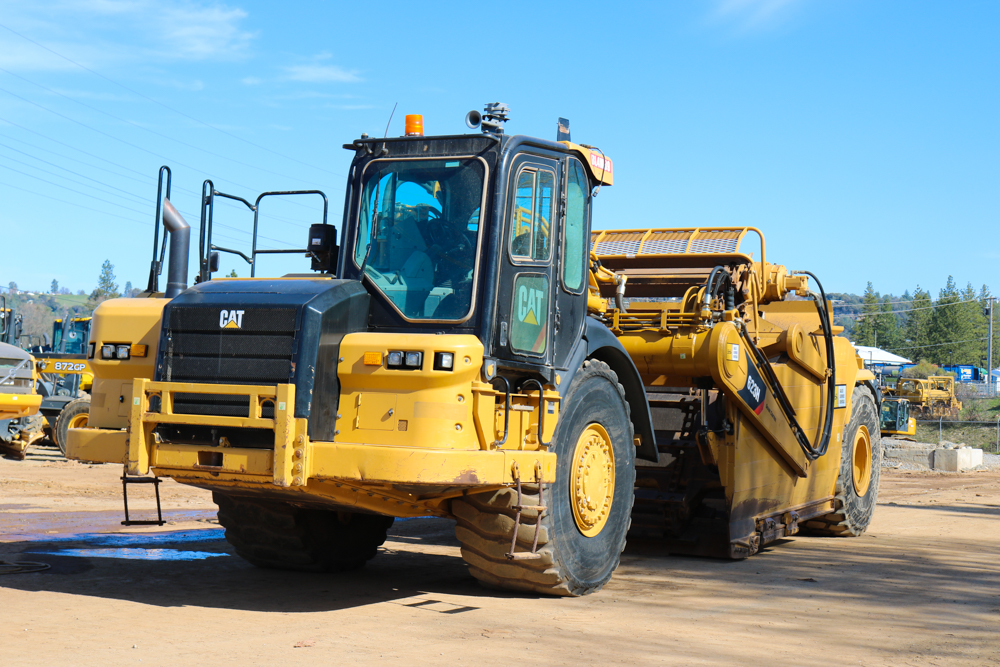 There are many benefits to renting a scraper. Of course, there are people in certain jobs and industries where they need to own a scraper as part of their permanent fleet. But even more, people need scrapers only at certain times. You may have a business where you need a scraper regularly, or even frequently, but not constantly enough to justify the cost and commitment of buying a scraper. You may have a business where you need a scraper very infrequently, but when you do need it you simply can't make do without it. You may have a one-time job where you need to use a scraper, but where you do not foresee the need to have one afterward in the future. Or you may already have a scraper as part of your permanent fleet but be experiencing an upsurge in business. Instead of purchasing a new scraper and expanding your fleet, it may be more economical and efficient to simply rent a scraper during the time of increased demand and then go back to your pre-surge fleet after the demand decreases again. Or perhaps your existing scraper needs maintenance and repairs. Instead of letting your business sit idle and languish while you wait for your scraper to be repaired, just rent another scraper from Pacific Coast Iron and keep plugging away at your business. There are too many reasons for renting a scraper to list, and there are many benefits to renting as well.
Maintenance is a huge benefit of renting a scraper. When you rent a scraper from Pacific Coast Iron, you are getting a scraper that has been well maintained and which currently meets all California safety and emissions requirements. You do not have to worry about the maintenance yourself. When you own a scraper, you have to pay for the maintenance and constantly check to make sure that it passes all the safety checks and is in perfect working order. When you rent, on the other hand, you get the scraper dropped off for you in perfect condition, ready to work. We have already taken care of all the maintenance issues, so all you need to do is get to work on your own job.
The Pacific Coast Iron Difference
Here at Pacific Coast Iron, our goal is to make sure you have exactly the equipment you need to get the job done. There are many different kinds of scrapers, of all different shapes and sizes. All these different scrapers perform differently. Whatever kind of job you are doing, there is a specific scraper that is perfect for it. That is what we aim to figure out before we send you home with a scraper rental. We will talk with you about the job and what you are going to be doing. We will assess your needs for different features that our different scrapers have. How much dirt are you going to be moving? How large is the area you are going to be working in? Do you need to be able to turn on a small radius and maneuver in compact areas? Or do you need a supersize scraper for a huge space? Are you working with dirt or gravel? We will use these questions to find the perfect scraper for you because when you are able to do your job with the greatest efficiency, that means we have done our job well too.